AlphaBay Market Links
AlphaBay is re-opened for business for the first time exactly 4 years since 2017. Having first started trading in 2014, it has cultivated a strong connection with the DNM community by being professional, fair & responsive when dealing with buyers and sellers alike. By 2017 that alongside their innovations, high security, uptime & ease of use made them the biggest and most trusted secure anonymous marketplace ever to have existed.
Alphabay Mirrors
Complete the captcha to get your Alphabay Link, this is a Anti-DDoS measure. All links are online 24/7.
---
Alphabay Latest Snapshots
---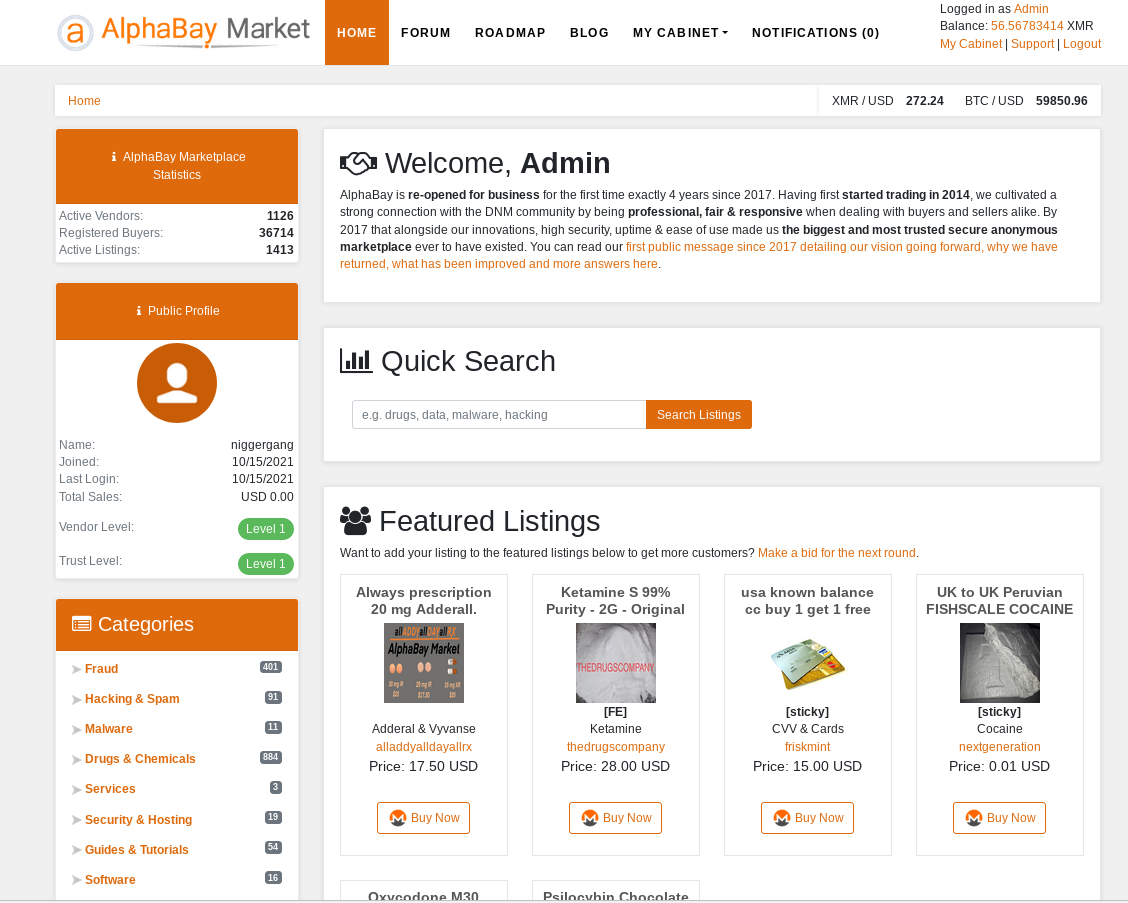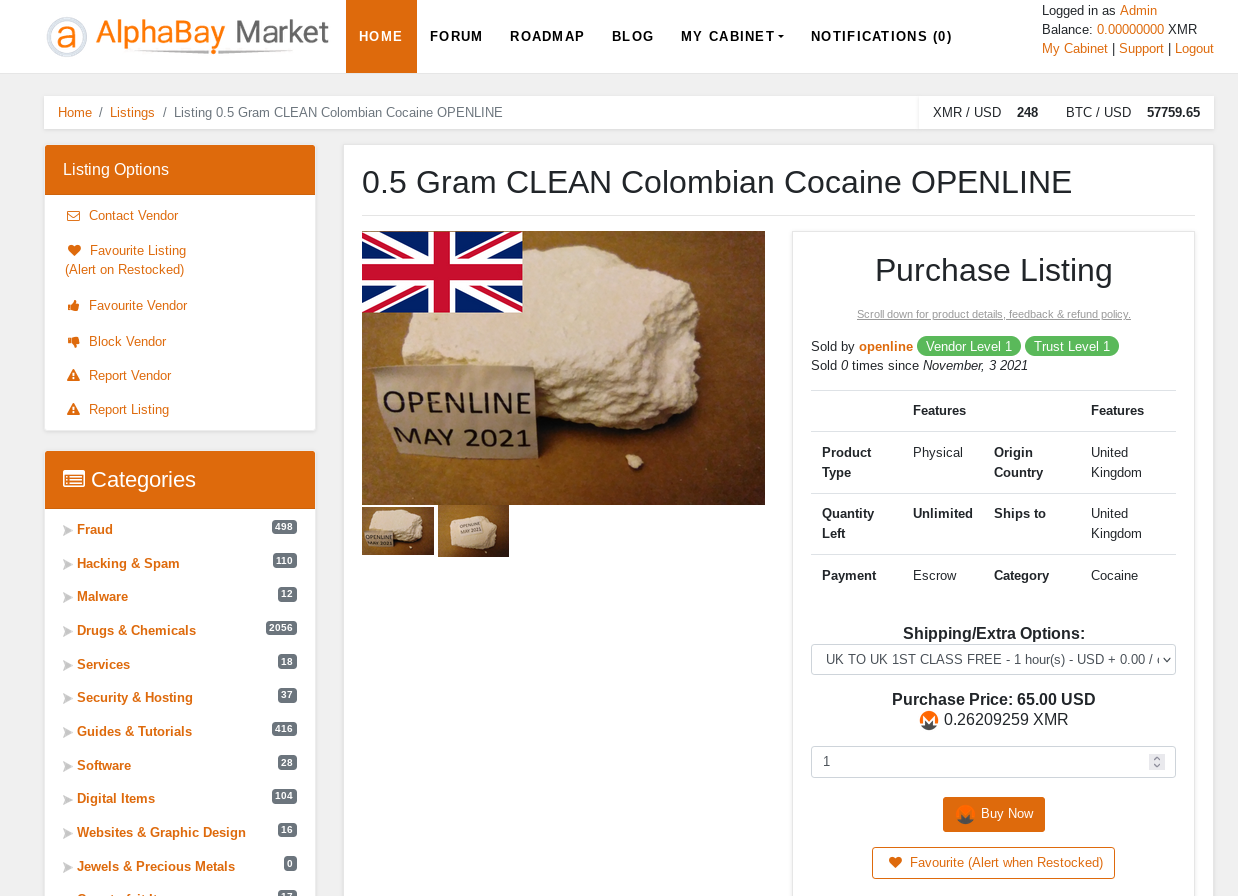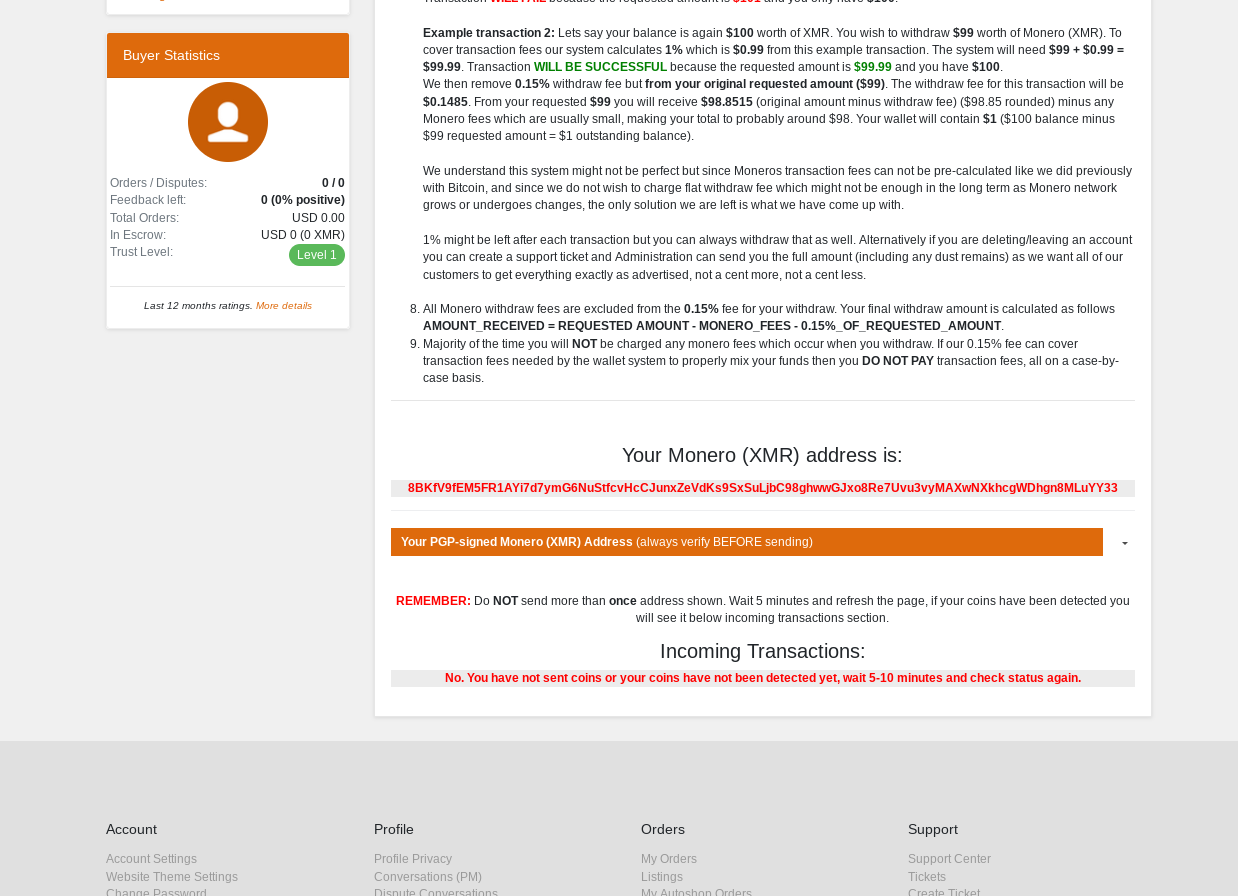 Alphabay Information & Stats
---
| | |
| --- | --- |
| Uptime Status | Maybe? |
| Established | 2014, shut down in 2017 and relaunched in 2021 by original co-founder DeSnake. |
| Vendors | 1,125 |
| Active Buyers | 36,657 |
| Listings | 1,413 |
| Multisig Support | Not supported by Monero. |
| 2 Factor Authentication | Yes |
| Withdrawal Fee | 0.15% |
| Vendor Bond | 1 XMR |
| Vendor Forced PGP | Yes |
| Payment Types | Monero (XMR) |
| CC/Account Autoshop | Yes |
Features
Alphaguard Wallet Protection - protects your AlphaBay wallet if seizures/raids happen. When you register you are presented with a key which is for your eyes only, if the worst happens you will need the link posted by AlphaGuard on social medias (.onion/.i2p), that key, your username and most recent password to be able to access wallets and disputes/escrows. More details on how it protects you/works you can find when you sign up and on our FAQ section on the Marketplace.
Automatic Dispute Resolver - Unlike other marketplaces we have the Automatic Dispute Resolver (ADR) system to speed-up the dispute process. When you dispute first the ADR system will be available to you to instantly work out a solution with the vendor directly, no waiting for moderators, no delays. It is basically a proposition system between buyer and seller involving extending escrow time, full refund, percentage refund or replacement options. Both parties can accept or deny proposition(s) from the other side. We STRONGLY RECOMMEND using ADR because it is exactly the same steps a moderator would take during a dispute without the need to babysit both parties (useful for extending escrow too). Even if you do not reach an agreement with the vendor, you would know where you stand or you would have tried certain options like reshipping/replacement of goods. The system has been designed to ensure quick resolution if needed by moderator by looking at what has already happened. Our experience previously has shown us over the years that a system like ADR is the future of how marketplaces will handle their disputes. If for some reason, at any given time ADR does not work for you and you can not reach an agreement or simply refuse to use it at all, there is always an available moderator to look into it in less than 24 hours.
Streamlined dispute process - easy and simple interface for disputes for all users. All options are available on order itself. Once a dispute has been started (even with ADR), it all goes in its own conversations (different from normal conversations) which are between you and the vendor/buyer. No need to PM them or get moderators to PM you to arrange everyone in the same conversation etc. All actions from ADR are posted in the conversation for parties to see. If ADR is cancelled it goes into manual mode where mods can quickly see your interactions as well as propositions (refund,replacement, % refund) and decide on a decision quickly.
Advanced Trust/Distrust System - as per our we are back message, we explained on there that the Trust Level system has been completely redesigned. It is now much more robust and takes into account more things such as a buyer have you enabled PGP/2FA (plus), do you let everything autofinalize (minus), what feedback vendors have given to you. Vendors have a different scheme which defines their TLs however it is very comparable to the difficulty of the one for users. Vendors can set trust levels on their listings to make sure they are dealing with real customers who have proven themselves and have great feedback/comments.
Vendor Shared Account Access - if you have been on AlphaBay previously as a vendor you would recognize this very useful feature. It allows adding more employees or partners reply as you, do your orders etc., without you needing to compromise account security.
Discount System on Listings - Again familiar feature for those who knew us previously. Vendors can set discount percentages depending on the amount purchased. The system will automatically calculate and apply the discounts for the buyer.
Autodispatch Listings/Automatic Selling - a feature which AlphaBay brought into the scene. Vendors can post hundreds of items (say data like credentials or cards) and once the buyer purchases it, it will automatically take that data and give it to the customer without any interaction required. Customers can purchase as many items as they want as long as the vendor has that many in stock in their autodispatch listing, the sale will go through.
CC/Autoshop - another feature pioneered by AlphaBay which has become industry standard. Only vendors who have proven themselves on AlphaBay (vendor level 3 and trust level 3) will be allowed to sell on there. Regardless of your reputation we have to see your data and customer support is up to our standards. For those who sell in bulk you can use autodispatch until you build enough reputation and meet the minimum requirements. We want the shop to be quality products only.
Dark/Light Theme - for all those who do not like the white light during the night vendors or customers, we have developed this specifically for you. Go into your account settings and you can change your settings from there.
Default Profile Privacy for Buyers - we believe in privacy that is why we have decided to deny public profiles of buyers like other markets do and how we used to do it before. Vendors should have their options set to public to ensure they can be seen but for buyers this is not a requirement. When you make a purchase as a buyer, all of your available information such as how many orders you completed, how many were disputed, comments/feedback by other vendors whom you have purchased from etc. will all be available to the vendor. However it will be available only before the vendor decides to take your order, not after. In this way we protect the buyer information and statistics from prying eyes.
Monero - we were the first big marketplace in the 2014-2017 period to introduce Monero as a payment option. Now it has become an industry standard and we have decided to use only Monero for purchases on the marketplace for both user and vendor security and privacy. You can read more about why we have gone this route in our we are back message or in FAQ on the marketplace. Internal Monero Mixer - regardless what any cryptocurrency offers in terms of untraceability or privacy or security, the best way to unlink coins to you has always been an off-chain mixer. We guarantee when you deposit with us and/or withdraw any of your funds will never be traced back to your initial wallets identity or deposits even if some day Monero is broken.
I2P/Tor - we highly encourage everyone to go to I2P for more security, availability (anti-ddos) and anonimity. We will have a Tor onion mirror until majority of users migrate.
Referrals/Affiliate System - refer your friends and earn up to 25% off each transaction profit we receive - 25% the highest industry standard. It is easy, you give the link to someone who has not signed up fo AlphaBay and when that person makes a purchase AlphaBay earns a commission (4%-2%). From that commission you get up to 25% regardless which vendor as long as it is escrow through our platform. Refer many friends, collect cashback!
Search Results with Small Vendor Listing Chance - easy search system for everyone to use. The difference and why it is a feature is that even if certain category is filled with sticky listings for pages, new vendors can still get a place on there. For every 25 listings, there is a chance of 1-3 listings of non-sticky, level 1/2 vendor in that category to show. It is a small chance but it allows the small vendor to receive that first buy which might kickstart their vending career.
Sticky Listings - well known feature which AlphaBay invented and now it is used in all other markets. You sticky your listing on top of your category, bypassing search results and giving more visibility to that product. Featured Listings - well known feature which AlphaBay invented and now it is used in all other markets. You bid for rounds (every 2 weeks) and if you win your listing is displayed at the homepage for 2 weeks before it switches to the next round. Perfect marketing opportunity for new and established vendors to get even more product views.
Autodelete Inactive Conversations - self-explanatory. To increase privacy and reduce servers load, messages are automatically deleted after certain period of inactivity. Works on Forum too.
Vendor/Listing Report System - deeply integrated for quick staff decision taking. If your reports have been successful you will receive notification and increase in Trust Level.
Warning Points System - allows ScamWatch and Staff to punish vendors or users who repeatedly do actions which are not allowed or which slow down processes. Useful feature for buyers to check on vendors profile to ensure they are dealing with a vendor who goes by the platform rules.
4%-2% Fee - all depending on vendor level. Fee structure rather than flat to reward vendors who use our escrow for longer time. Traditional Escrow/Finalize Early
ScamWatch Team - a feature/system which AlphaBay invented. Community-picked members ensure the rest do not get scammed. Includes hidden harm reduction program.
Decentralized Market Project - % from our profit funds the decentralized market project (ability for all markets to join/vendorshops). The next step in darknet marketplaces.
Unique Categories - like services - translation, remote administration, customer support, graphic design, physical services (no harming or violent activities; pickups/drop offs etc. are okay)
---
Security Recommendations
Most Important:
stay anonymous
. ONLY use
Tor Browser
, do not use any other browser that connects you to Tor.
Before visiting the site with the Tor Browser,
disable JavaScript
(Options --> Privacy & Security --> Security Level --> Switch to "Safest").
Ideally, you
have a system or at least a VM for all your darknet activities
. Keep your darknet PGP keys and other credentials on that system only, do not mix it with any activities that would expose your identity.
Treat your dedicated system like a work-system: Only install the software necessary for your operations do not install anything for entertainment or other purposes. Subsequently, resist the urge to browse Twitter, Reddit or any other social media sites while you have downtime. For this always use your regular system.
For additional system security, we recommend you run a secure operating system like
Tails or Whonix
on your dedicated system for darknet activities. We also recommend using a VPN as an additional security measure since TOR will only anonymize your browsing sessions but not other traffic.
Especially when using any public WiFi hotspots you should always
use a VPN when accessing the Internet
since you don't know whether the access point is compromised. A VPN ensures that all of your traffic, no matter what application, will always be strongly encrypted when passing the access point, this protecting yourself not only from eavesdropping but also possible identity theft.
As always, when visiting any darknet market make sure to only use trusted links, such as the onion link for Vice City on the top of the page.
---
Public PGP Key
The only difference between this key and the original DeSnake key is that the expiry date has been extended. You can compare the old fingerprint with the new one, they are the same. View the old key here

-----BEGIN PGP PUBLIC KEY BLOCK-----

mQINBFMbvPQBEADeqXrLYNwGDzqCakQD4gB3A7N4prxpRZrRdgmkMrqK9RI+ZTdO
T6xahqxlc7PNdqU9hUrth7gdkDOWIfM6lxBrA1AUVoKxuZVjU7fklkhQ/iUwHL6G
t1YT9pvXI9obCUI5eV1w/oQ9oA9LC8BxhpR/Izv7D5RxBsf+O9XigxqKBZm2y1Lm
/o7y3D/ipDyT3F0sP/2pQ7YYOONS3fzwU5Dj8kUQ5cmPWwfv67JPGZykvU3PpPdx
6DjvhgZdRZ0vezAp9pDQtfhaHUSyfefUfTTDaHAWo8fsrq7w8eWivUgnQYbKNiEI
kHgVTuxVRpL5MqptMgvtHO0Rw7K4vcQu2mHid/jdyE50AV4IsVuTM7AYtwlQjC4K
9NS39i+aZfzc/FenQHHmohuMQ6w6j38pYncHhXbEFMQUqkvhB34iLi90CYtOYf1i
OUXYqyUUdD3AMT7/DgM9ngXS8SddmrJcKwmbukVf0U1vgA3Tw9ko3SV3yIafy0f9
H86NjGmNkvuNCZ58CrTEIbqsB4ihwXmvrQEq8Dl4MAq2UqxJezmWu4I1lPv0p6rZ
7eSRhPUY+ptxDBqggn6GxHljzfMerAKCI/XeK0EVAbDbF0zmT55gdzf8Gme4KVSB
MxJAOTb+pY0SanrD1GfxzS1xhuoYkS9Judj7cBo0aOO3YFJ060eg2UW3CQARAQAB
tA9EZVNuYWtlIDxub0Bubz6JAjwEEwEKACYCGwMFCwkIBwMFFQoJCAsEFgIBAAIe
AQIXgAUCYOO3DwUJIJP9EQAKCRAOKI/S4oGTwLbZD/0SQvpn1hADPeNq0iF5ixwG
Fhor8oRQJJ5BrKG6YbDsV00zEwDaEes3xrjYvX5ppyUqJdvPXn5gimeTsqC7vAlm
YnDzYTi+SJffl5mQzSEwPj+rDEPP+qbtW7bD8dGKnKgO61jzOPM/6LfG+HZ7CCaq
kJlxUG8P9GRaQI3IDGLoviiioPvPavWV2em6Zw7kAYVwaZu4vKiLze2Va4gQi2bp
AzpIyKQdrdRRM1LrglLXi6fdGm/vsMNGPUPQVMlSiuFYsVPk/gl4k9Vzf2GbFFot
ZIbPIYwG9y9AKkycDA9CclYmbPI2VP3jNFSOKTnG92ZffRTL1ngpeKoawXt7RE80
g/IHOsejJs2sh8ulbaFGuouB1z9jyvunRB1qny3pboE0OU4FpFodQNVg6K+3eBXv
g+50J6+AYCn6qYCsxGuHTB6HYkj37DT4Ym7Ub+x6N8KByCBtVDh9h3Lra9hEJ8bH
VhbTuw49+qEpLGJbcJk6GVqjf4r05b7FP/mKOLdgFbsoH2pwdd/XyxZ9N7obiSa5
1BDXe8zLW800NqptZw79ufTDbbshIxPXlSsvPAl1siSf3qBY78ntRqVHkObPqVJK
8fEMdYrLBbfwks9xae1oOH5y+3JMbKgQs3mmjXwqLd7Ik/nkv9j6vCXAI+D3/xty
2RbC8pB3BlpZG0TzGv81ArkCDQRTG7z0ARAAygwieGKdgh7y/ki0dYBy3H/LKJTQ
oU1OiLf2Bfuy0X+vUzz8XhPt2AgbBS/PbGNjd6NG7HoUstCK5k3sO0NwR47IvBR3
/LpbnI1thUmAaQta7AyFssifXnHdaW/B0FgKrcCS0HPW8tVjfpMOIAh8SL9vflGl
q6rXTcnTNWp8aWDxEc8vdQIRh1tBZ0oCBTPcVa3BKaG08o6/+luoRkOT33fvhssO
D7Wa1okTZv3WaCViVUDboEOqYYNzdr0kINFDTUw2q7R6VQgGnc1/uMA1J38nzeCQ
DKUFPFGhJkw3JILegmxRpQwotDnUWu8KlYGeGs4EZQgUccUp04ZLKt7mNWms5juT
4ftL89+FqWes76GRNNdIDncaAzb5ZHiBbY8cj+iJ7LuCJDG/nonQNbLmKWIdWayA
kYSgh1BhB2dhZ5/j1ap4Gp4JVcF/xToQlDVqvkP1DyEjIWCQ7zCfdSOxU+4T47uP
ya3zkdS7RPBptsyn6fiWfqfggo3tWTX+Bgc9iLrxAkpiTSkUuCg6M1Wx284P9HGm
T9rzOak9b5TlQ/9+7MeULQ4/jxcckkLizTA0cqR3y8iDP1Iym24Sa0Dy30C8Gxsr
HO3z3HnWApiRT9IxYNNvW0FDxHsVtFLzeCF8PBqnsFIh7X6yplKfu5cBJxBdGD0V
QGmnVMLBnFYOoKcAEQEAAYkCJQQYAQoADwIbDAUCYOO0YQUJIJP6RAAKCRAOKI/S
4oGTwMGDD/4g1D/x/gRSskgJ0LggFDYUZIaRfvZYvF3na4XKOiUIocfBgX6BDr+Z
d8txt3TSOKMKK4SXTccSUxdosTnEh77lOBmIh5t85f7MVHU+8ocdj2KNh4CM7For
NnffnQomi5HxxNHGq73xdMmdO8peYFVUH8axxhBnBpXMT5frhjv0wQxiMTlOn6jD
D3TGJiu+vPsYbAH7+jkPOwFkfqrJEGJtWglja8R1mpslQhTb4qB9iwjyvTaZtA7U
az4j1NClREHHiCNe6NaTnVOoSqz+7Fu1lZ6XDHpPkV+/juoVifc/o5Ipigfiq2Zu
XnUwdpYVUESEW4YSO8m2G1Wo8YIWU87ZPozA7BaElA+1Q1/wIxe8Q+SugLTEvrO7
LjSTi2eLGckizdpuUWiumf+jPRqvDScTur5ybeJfRBu5CMHi4C0zIUmIwDb0W+Zq
VW0nFE2Dv1/c48ljXAPOI3JNRZGvnwtYLAk97Xe+jYmK8eEOO+tkjxUIlr1+ktmx
9+69WxuXUh4xuHl8KeJVQMlDkZFNChZy3xG503jTlEGeezBSNxN7egqm9ee/KAu9
od8PTj/WrqE/ehbd6ZH1Mqdjqnc6ck0e5yS/GSdvkqboVbl6sFoyg/s+lUAHImqt
xt8X6ilP1EjzzCpG4LhceF0yWFek6sd7Jg8gpZAsxZSa48V6iwBdWA==
=uXfV
-----END PGP PUBLIC KEY BLOCK-----